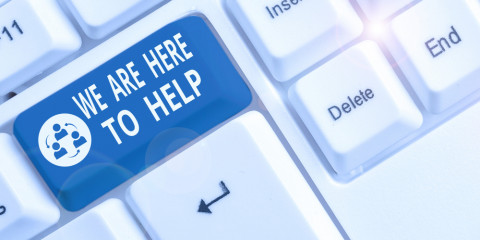 1819, four numbers that will simplify your life as an entrepreneur
1819, does it sounds familiar? Perhaps you've already used it as an entrepreneur, or you're just learning about it...
But do you know exactly how this service can help you and how it works? Everything you need to know in 6 questions and answers...
WHY 1819?
It all began with an observation; the fact that it is not always easy for entrepreneurs to find their way through the plethora of information available everywhere, nor to know about everything that is available to support them throughout their entrepreneurial journey.
To simplify the search for reliable and quality information, in 2010, the Brussels Region decided to create a single point of contact to provide more targeted help and information for entrepreneurs. 1819 was born... with a short and easy to remember phone number and a mission to inform and guide anyone who is doing or wants to do business in Brussels.
Initially accessible only by telephone, 1819 has gradually developed other channels to carry out its information missions: a website 1819.brussels, a newsletter "Doing Business in Brussels", an Infopoint, a presence on social networks, but also workshops and other information sessions, and more recently a FAQbot on the website, and even an info-bus which, this summer, visited all the Brussels municipalities.
1819, FOR WHOM? FOR WHAT?
Perhaps you only recently discovered 1819 because of the coronavirus crisis? In fact, in 2020, 1819 was designated as the central information point for "coronavirus" measures, including grants for Brussels companies. Our FAQ page on this subject has already been viewed thousands of times.
But 1819 does much more than that. Anyone wishing to create or develop a business in the region, i.e. student-entrepreneurs, start-ups, the self-employed, experienced entrepreneurs, foreign investors etc. can contact us.
Their questions or problems can concern a most diverse range of subjects: whether it is a question of the regulations to be complied with when creating or developing a company, the administrative formalities to be completed, the search for a place of business, various legal questions or questions relating to the financing of a project. Or even training, the search for specialist advice, putting people in touch with each other, etc. In short, any questions you may have as an entrepreneur or future entrepreneur.
This service is completely free! So don't hesitate to contact us!
BEHIND 1819, AN ADVISOR TO HELP YOU
The 1819 frontline service is a provided by hub.brussels, the Brussels agency for business support. It is composed of approximately 15 people, mainly advisors who answer calls and questions. They are the heart of the 1819 service.
Answering questions is one thing, but very often advisors also educate the entrepreneur about aspects that they may not have thought of before calling the service.
For example, when you contact 1819 to find out about the financial aid available for setting up a business in Brussels or taking over a business, the advisor will also draw your attention to the importance of planning permission legislation in Brussels, the different forms of taking over a business and their respective benefits, the steps to take to prepare your project properly, etc.
1819 advisors come from all walks of life and have different backgrounds and profiles: solicitors, economists, and often entrepreneurs themselves. They benefit from continuing training and are able to provide an initial personalised response to your questions, but also to identify the structure, organisation or professional who can, if necessary, complete this response or guide you further in your project. If you have more specific or technical questions, they will look for the answer to your question, or direct you to a specialist.
In addition, behind the 1819 frontline service, there is an entire network of partners that act as second line support. These are, of course, the more specialised colleagues of hub.brussels but also dozens of business support structures to which entrepreneurs can be directed: professional organisations, business cooperatives, public institutions, etc. They are the right people to turn to when you, as an entrepreneur, need additional support or when an issue needs to be addressed in detail.
1819 is also tasked with leading this network of partners and organising joint activities to promote knowledge of each other's products, services and expertise, through a veritable "1819 Academy". 
WHAT DOES 1819 NOT DO?
We help every entrepreneur as much as possible. But there are things that are not within our remit or that we do not do:
We are not a call centre that simply connects you with other organisations (use our "Who can help me?" tool instead);
It is still your responsibility to come up with a business idea;
We are not a business counter that registers your business with the Crossroads Bank for Enterprises (what does a business counter do for you);
We inform you about a business plan but do not create it for you. (Of course, you can use our free tool which will be completely revised this year);
We only provide information on subsidies, but we do not award them ourselves;
We do not act as an intermediary between the entrepreneur and other services;
We cannot intervene in a specific case that is being handled by other organisations or administrations, and we do not have access to it.
In short, the 1819 service informs and guides in a neutral and objective way.
IN WHICH ACTIVITIES CAN I PARTICIPATE? WHAT TOOLS ARE AVAILABLE?
1819 organises numerous activities each year, in cooperation with other partners in the network. Some examples of our offer:
Do you want to start a business in Brussels? Then take part in our "Starting a business in Brussels: the keys to success" workshop, which will give you a complete overview of all the aspects you need to consider.
Do you have accounting or legal questions? Come and ask a solicitor or chartered accountant during the meetings they host at 1819
Also check out our workshops on accounting, taking over a business, subsidies, recruitment, self-employment, etc.
Want a complete overview of a specific topic? In this case, take part in our themed weeks on: financing (returning in March 2022!), starting up without too much risk, transferring a business, e-commerce & export, recovering after the crisis, moving to Brussels, etc.
You can also regularly meet our advisors at our events
What's more, all these activities are free!
Several tools on our website also allow you to access all kinds of necessary information wherever and whenever you want.
In addition, the website also has a FAQbot (at the bottom right, you can see a discrete window). You can use this tool to search for responses.
HOW DO I STAY INFORMED? WHAT ABOUT WEBINAR REPLAYS?
1819.brussels: take your pick!
All events, including those of our partners, are listed in the "Events" section of our website. Here again, the filters on the left allow you to refine your search. In the "Blog" section, you will find all sorts of information on new measures, new projects, calls for projects, testimonials from inspiring entrepreneurs, etc. The "tools" section naturally includes the tools mentioned above.
The "Business Guide" covers the practical information you need to know as an entrepreneur, grouped by topic.
The bi-monthly newsletter, which you can subscribe to free of charge, also contains a lot of information.
Social media: be the first to know!
1819 is present on LinkedIn, Facebook, Twitter, Instagram, YouTube. What's more, on YouTube, you can easily (re)watch the old webinars in their entirety!
Have you ever used 1819? Do you have any suggestions to make? Any themes that could be explored in an article, workshop or other? Please do not hesitate to let us know via email!
You have not yet given permission to place the required cookies. Accept the required cookies to view this content.