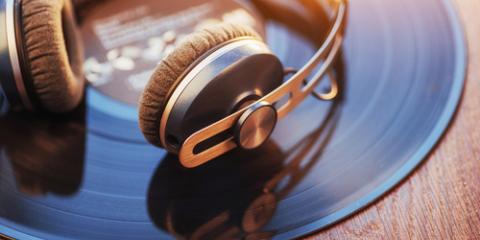 Do you have to pay to play music in your establishment?
You're probably planning to play background music in your establishment in areas accessible to your customers and/or to many of your employees. In that case, you'll have to pay a fee to SABAM and will, in many cases, be required to pay the "fair remuneration" ("rémunération équitable").
WHAT IS SABAM?
SABAM collects the royalties due for playing music in public. It's a private company of writers, composers, and publishers, approved by the public authorities as a "management company" or "royalty collection company". It is authorised to collect royalties on behalf of its member "authors". The royalties collected are distributed – based on pre-set distribution keys – to the authors (lyrics writers/composers) of music in exchange for its public use.
SABAM sends out invoices for music played:
in shops;
in hospitality establishments;
in companies which are solely accessible to staff members and have at least nine full-time employees (for SABAM, two part-time employees are equal to one full-time);
on telephone lines and as hold music;
on websites;
in taxis;
in coaches.
The fact that the music is played via radio, a personal CD or the Internet is not relevant. There is only one instance in which the fee isn't due: when the composer of the (classical) music being played has been deceased for 70 years, unless it is a new arrangement of the music.
Warning! Playing music via YouTube, Google Play, Napster or streaming services like Spotify and Deezer is not authorised for commercial purposes. This is expressly provided for in the general terms and conditions of the services.
Note that you must also pay a fee if you use music for a single event like an open house, a sale or a market. SABAM receives royalties even if the music is played on television.
WHAT IS FAIR REMUNERATION?
Playing music in public requires the payment of royalties, as well as an additional fee called fair remuneration, which is collected for music performers and producers. This is in addition to the fee payable to SABAM (royalties). The minister has approved two management companies to collect the fair remuneration: SIMIM (which represents producers) and Play Right (which represents performers).
It doesn't matter if the music is played via a radio station, a CD, etc. The fair remuneration is also due for temporary events. And its must be paid for classical music, since the fee is intended for the artists and producers. However, it isn't required for live music.
HOW MUCH DO YOU HAVE TO PAY TO PLAY MUSIC?
SABAM
For companies, the calculation basis for the rights depends on their sector. For most sectors, SABAM applies annual set fees which depend on the surface area of the establishment and the sound equipment used (for audio and audiovisual only). The amount due is set in a contract between SABAM and the retailer, hospitality establishment or service provider.
For hospitality establishments, nightclubs and discothèques, SABAM normally applies a set fee, which is based on the price of drinks and, if applicable, the entrance fee, the number of days open, etc. A contract is signed with the local collection office in this case too.
There are special rates for temporary and occasional events (trade shows, concerts, parties, etc.).
You can get an idea of the pricing on the SABAM website.
FAIR REMUNERATION
The amount of the fair remuneration varies based on the surface area of the establishment. The rates are set in specific agreements for:
hospitality;
retail;
services;
hairdressers and beauty salons; and
cinemas and festivals.
You can get an idea of the pricing here.
You can also have the amount due calculated based on your specific situation or you can calculate it yourself. Use the rate simulator to be completed on www.declarationunique.be.
HOW DO YOU DECLARE THE MUSIC YOU PLAY?
You have to fill in the SABAM declaration prior to playing any music. For the fair remuneration, you can wait until you receive the request to declare the music you intend to play. When you open your establishment, you should expect to receive a declaration form sent by mail (sent once only) in order to pay the fair remuneration. You should fill in and send back the declaration as soon as possible, even if you don't believe that the regulation applies to you (for example, because you don't play music in your establishment, which you can indicate on the form).
You can also send in a single declaration for both via www.declarationunique.be. Don't hesitate to ask your accountant for help and more information.
This article was provided by Zenito and published on their blog. Zenito is a business advice centre and social security office which advises entrepreneurs and professionals at every step of their company's life. Their website features many useful tools and publications like the Starter Guide.
You have not yet given permission to place the required cookies. Accept the required cookies to view this content.