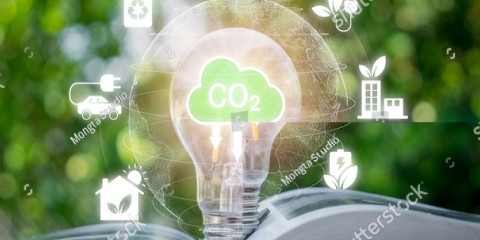 Smarter and more sustainable shopping through buysmart.brussels
Want to reduce your company's environmental footprint? A smarter and more sustainable purchasing policy is a first step in the right direction. Consider, for example, making your car fleet greener or sustainable alternatives for computer and office equipment. On buysmart.brussels you will find information, advice, workshops and a real helpdesk on environmentally and socially responsible purchasing.
Buysmart.brussels is a Brussels-Capital Region initiative, in association with hub.brussels, 1819 and CODUCO - a consultancy company specialising in sustainable procurement and ecolabels. Interview with Rob Renaerts, Manager and driving force behind Buysmart and CODUCO.
CAN YOU DESCRIBE EXACTLY WHAT BUYSMART AND CODUCO DO?
"We are a consulting firm that works on two themes. Initially, we focus on sustainable procurement consulting. This concerns all products and services that companies purchase from suppliers. We started by advising on sustainability criteria for public authority procurement. These years of experience now enable us to help companies in their quest for environmental and social entrepreneurship."
"CODUCO also specialises in the sustainability of the purchasing strategy in the food and hospitality industry. For example, we put caterers and community kitchens on the path to eating more organic and healthier food - and reducing food waste."
HOW CAN I MAKE MY CORPORATE PURCHASES MORE SUSTAINABLE?
"Firstly, we focus on advising on basic products, such as computer and office equipment. Consider office design and renovation, the purchase of printing paper or new paint. At the same time, we are seeing a sharp increase in demand for mobility advice, including the shift to electric bikes and cars and sharing systems. Recently, a municipal administration came to us with a project to purchase 10 identical new cars for the municipal service. After our needs analysis, we finally bought just 9 cars, a combination of big and small models. The total investment cost was lower, and the fleet became much more environmentally friendly."
"Purchasing external services can also often be more sustainable in businesses - consider building maintenance and cleaning. Finally, we also offer advice on purchasing food with a smaller environmental footprint, for example for the company canteen."
HOW DO YOU PREPARE SUCH ADVICE?
"Step 1 is an analysis. What is needed? Is it possible to replace certain products with a more sustainable alternative? In some cases, we can also remove things - printouts, for example. Mobility often offers great opportunities: can we replace cars with electric models, or an electric bike?"
"Step 2: the search for environmentally or socially responsible alternatives. Sometimes ecological arguments are favoured, sometimes a purchasing policy focused on local products is the priority, in other cases the company favours cooperation with social economy firms. The choice depends on the preference and priorities of each company."
IS IT EXPENSIVE TO REDUCE MY COMPANY'S ENVIRONMENTAL FOOTPRINT? AND WHAT IS THE RETURN?
"Anyone who has remained loyal to regular suppliers over the past decade has almost certainly missed out on some green innovations. In this case, you will surely see a benefit, even if you opt for a sustainable alternative. This is especially true for energy-intensive products or services, such as company cars. It is best to consider the total long-term costs, not just the purchase price. Meanwhile circular alternatives - some or all of which come from recycling or reuse - are becoming cheaper and more attractive to businesses."
TO WHAT EXTENT IS A SUSTAINABLE PURCHASING POLICY FEASIBLE FOR MY COMPANY?
"We are not aiming for a utopian scenario or an unattainable strategy. However, we are convinced that everyone can do something, depending on the financial possibilities of the company in question. The number one objective is to eliminate the products that are most harmful to humans and the environment. These are the "quick wins" we want to achieve because every company and every organisation can take steps to develop at a pace and budget of its own choosing. We absolutely want to avoid greenwashing. We thoroughly check all products and ecolabels, based on information from independent sources."
LET'S SAY I WANT TO START MAKING MY PURCHASES MORE SUSTAINABLE NOW. WHERE SHOULD I START?
"It's quite simple. Send an e-mail to the buysmart.brussels helpdesk. We can then conduct the necessary research and respond to you within three business days."
HOW MUCH DOES SUCH ADVICE OR TRAINING COST THROUGH BUYSMART.BRUSSELS?
"The vast majority of our services are free and we serve everyone. Workshops and training courses are also free of charge, as are questions asked via the helpdesk.
Companies can also count on intensive support in developing a sustainable purchasing strategy. In this case, they pay 20% of the total cost. The remaining 80% is financed by the Brussels-Capital Region. The Buysmart project is part of the future projects of the Region, hub.brussels and 1819, which aim to support businesses with a positive social and economic impact as much as possible."
BUYSMART.BRUSSELS WILL SOON BE ORGANISING A FIRST TRAINING COURSE FOR INTERESTED COMPANIES. WHAT CAN WE EXPECT?
"We are planning a general training course on 16 June for companies that want to make their purchasing policy more sustainable. We'll look at a number of useful and practical tips for individual purchases, which you can put into practice immediately afterwards. Everyone is welcome!"
Smarter, more sustainable purchasing for your business? All the information you need can be found at https://buysmart.brussels.
You have not yet given permission to place the required cookies. Accept the required cookies to view this content.