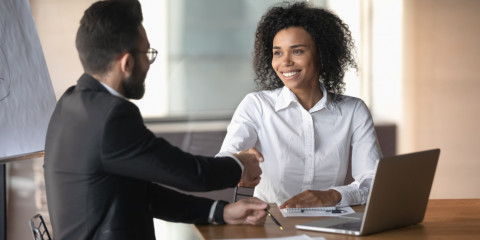 Young entrepreneurs also have their own Erasmus Programme
Are you thinking of starting your own company or did so recently? Or do you manage an existing company which is looking for new ideas, expertise or markets? In each of these cases, the "Erasmus for Young Entrepreneurs (EYE)" programme can be an excellent choice. Interview with Pierre Herfurth, EYE coordinator for the Brussels-Capital Region and a testimonial...
ERASMUS FOR YOUNG ENTREPRENEURS CELEBRATED ITS TENTH ANNIVERSARY THIS YEAR. CAN YOU REMIND US HOW THIS PROGRAMME WORKS?
Pierre Herfurth: "It's an international entrepreneur exchange programme. The European Commission launched the initiative in 2009 to promote the entrepreneurial spirit in Europe and increase entrepreneur mobility. It set up a cross-border exchange programme called Erasmus for Young Entrepreneurs (EYE). The goal is straightforward: enable new entrepreneurs to experience the daily life of an experienced entrepreneur for one to six months, regardless of their business sector. Currently, 39 countries are involved.
The exchange must be win-win: the young entrepreneur tests their aptitude for entrepreneurship, builds a network, develops professional or specific technical production skills…For their part, the experienced entrepreneur gets a new point of view on their business, support to develop new markets, potentially in other countries, or external knowledge and skills to develop new products/services,…
CAN YOU REMIND US WHAT YOUR ROLE IS AS AN INTERMEDIARY ORGANISATION?
Pierre Herfurth: "hub.brussels is one of the many intermediary organisations officially appointed by the European Commission to manage the programme. In addition to promoting and providing information about the programme, we primarily provide support to entrepreneurs, ensure the quality of exchanges and assess the results.
In practice, I support young Brussels-based entrepreneurs. They send me their application with a CV and a business plan. I verify the quality of their profile, help them improve the weak points and, once the project is sufficiently solid to be selected, we search the Erasmus database together for an entrepreneur in another country who would be willing to host them for a few months. Once contact has been made, the two entrepreneurs agree on the dates and objectives and the activities that will be provided during the exchange.
In addition, I look for Brussels-based entrepreneurs who are willing to host young foreign entrepreneurs. I analyse their profile and if they meet the programme criteria, I offer to help them to find a young entrepreneur who will meet their expectations.
The profiles of all of the entrepreneurs (young and experienced) are entered in a database, which enables everyone to search for and contact the profile they're interested in, in the sector they want. When an exchange is possible, I put the two parties in contact with each other and approve the application. An agreement is then signed by all parties in which the objectives, activity plan, including tasks and responsibilities, financial conditions, etc. are defined.
And, of course, I provide support to the young entrepreneur throughout their stay. I help them with all formalities, housing and transport and I obtain the final activities report, which is required by the Commission. Once they return, I can also guide them in developing their own business."
WHAT IS YOUR ASSESSMENT AFTER 10 YEARS? AND WHAT ARE THE CHALLENGES FOR THE COMING YEARS?
Pierre Herfurth: "Like any new project, EYE took some time to get off the ground, but the programme has been increasingly successful. There have been nearly 7,000 exchanges over the past 10 years, including 1,224 in 2018. There are currently slightly fewer than 200 intermediary organisations which mange the exchanges, of which six are located in Belgium. Belgium is also one of the top five countries in terms of hosting new entrepreneurs.
The European Commission also launched a pilot programme last year which expands the number of destinations: this is EYE Global, which enables young entrepreneurs from participating countries to go to four new destinations: New York, Pennsylvania, Israel and Singapore.
hub.brussels currently acts as the intermediary for about twenty annual exchanges. Too few entrepreneurs are aware of the programme. One of our challenges is to increase EYE's name recognition with potential beneficiaries. The great majority of participants are thrilled with the programme. I really think that there is room for more exchanges. Many host entrepreneurs decide to continue after the first successful exchange. A real collaboration often results from the exchange after it ends.
But, you should ask Alain, one of our young entrepreneurs, who just spent four months in Mannheim, in Germany, with a local coffee roaster."
WHY DID YOU TAKE PART IN THE PROGRAMME? WHAT DID YOU LEARN?
Alain Diouly-Osso: "After completing my engineering studies and starting a career with a large company, I wanted to change directions and create my own business in a completely different field: I wanted to open a coffee roasting/tasting business in Brussels. I already had good contacts to buy high-quality beans, primarily arabicas from East Africa and robustas from the Gulf of Guinea. But I didn't know anything about roasting or managing a café. So, I postponed starting my business and took advantage of the Erasmus for Young Entrepreneurs programme to explore and learn about these businesses.
I really learned to manage a roasting business from A to Z: bean selection, planning and buying, packaging and brand positioning for the customer; best bean storage practices, roasting and how to create flavours, etc.
I'm still working with my host entrepreneur. I provide him with some services in exchange for access to his equipment to roast my beans before buying my own equipment. That enables me to start my business at a lower cost while maintaining a good relationship with an experienced roaster." 
YOU NEARLY HAVE TWO YEARS OF EXPERIENCE IN THE PROGRAMME. WHAT IS YOUR ADVICE FOR FUTURE PARTICIPATING ENTREPRENEURS?
Pierre Herfurth: "I think that having a professional experience in another country is always beneficial. Erasmus for Young Entrepreneurs enables entrepreneurs who are starting out to gain this experience. They receive coaching and advice and learn management methods in the field. It isn't theoretical: it's 100% practical experience. There is no better way to prepare before setting up your own company, right? So, I would say: Don't be afraid! You've got nothing to lose. Go for it... Seize the opportunities a host entrepreneur can provide you with!
And, to the host entrepreneurs, I would say that they need to be very aware of the personal investment the young foreign entrepreneur is ready to make. It isn't a student job and it isn't an internship. The foreign entrepreneur wants to learn, achieve things and they need to let them take charge of projects and take responsibility. Host entrepreneurs have to be willing to dedicate several hours a week to them to guide them, teach them the basics and give them the opportunity to express themselves. Everyone wins."
INTERESTED IN THE ADVENTURE? FIND OUT...
The success story of Quentin Ariès, journalist and chair of Café Babel media, and Katerina Zekopoulos
YOUR LOCAL POINT OF CONTACT IN BRUSSELS:
Pierre Herfurth has been programme coordinator since 2018:
pherfurth@hub.brussels – 02 422 51 26