The Benelux Office for Intellectual Property (BOIP)
Info
Service pricing:
Free services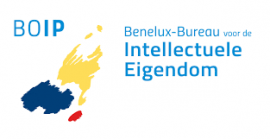 The Benelux Office for Intellectual Property (BOIP) is the official body for registration of trademarks and designs in the Benelux. The BOIP additionally offers the possibility of establishing ideas, concepts, creations, prototypes, and others.
Registration of a trademark
A trademark is a sign through which you distinguish your products and services from those of your competitors.
You can register and protect your trademark by proposing a name or a logo online. In most cases, you can also register your commercial name or your company's name as a trademark.
Registration of a drawing or design
A design or drawing relates to the appearance of a product or part of a product, for example, a new design for headphones, a watch, a coffee-maker, clothing or bag. The appearance, which is also referred to as the design, results from features such as lines, contours, colours, shape, texture or the materials of the product itself or its ornamentation. The design must be novel and have individual character.
You can record and protect your design by submitting it online.
Store your idea: i-DEPOT
The i-DEPOT is legal proof that makes it possible to date the existence of an idea or creation, with the use of an official seal from the registry office or a notarial act.
You can directly remit your i-DEPOT online. This procedure is simple, quick, economical, and above all reliable. You are advised to enter certain details in a few steps and to add a description or a reproduction of your concept or idea.