Coworking Saint-Gilles
Info
Service pricing:
Services available for a fee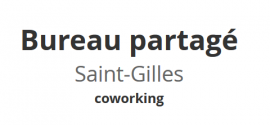 The Coworking space Saint-Gilles offers you the chance to work in the city centre at a low price.
Be part of our small community, between eight and ten people, and, at the same time, part of the entire community of la glacière, a space with an infinite number of activities and positive energies, which opens onto a pleasant and peaceful courtyard with various associations (espace catastrophe, l'heureux nouveau bio, etc.)
The coworking space provides you with a desk, a meeting table, a common room for meals, a small kitchen, broadband Wi-Fi, an A4 and A3 printer, laser cutting to order, (organic) fruit, coffee and tea, 24 hours a day!