Smart Rooms
Info
Service pricing:
Services available for a fee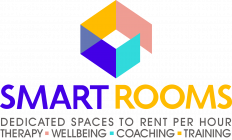 Smart Rooms offers fully equipped offices/practice rooms for rent by the hour for wellness practitioners, with no long-term commitment.
Smart Rooms is a unique workspace in Brussels, designed to help and support wellness practitioners and trainers who want to start a business.
Smart Rooms, for whom ?
Smart Rooms is useful for starting practitioners, for those wishing to have a temporary base in Brussels, for people undergoing professional retraining and who wish to test their new activity in the field of well-being, for those looking for flexibility, etc.
Smart Rooms includes:
Rental of workspaces by the hour (including charges and VAT)
Access to the practice rooms 7 days a week from 8am to 10pm
A shared agenda with the other members
Equipped practice rooms (massage table, chairs, tables, desk, blackboard, etc.)
Advantageous sliding scale tariffs
Mutual support from a dynamic community of practitioners
ITS MISSIONS 
The mission of Smart Rooms is to allow each wellness practitioner to start up without financial constraints, without long-term commitment. It is also important for Smart Rooms to allow the users of the spaces to meet each other in order to help each other, to create synergies during the monthly meetings.
More info on the website of Smart Rooms.