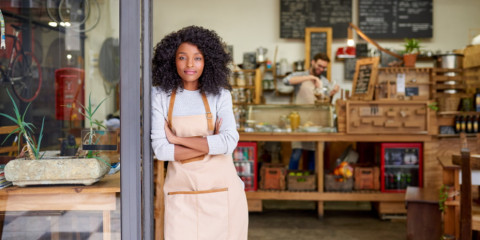 Designing or improving the layout of your point of sale
You've settled on your visual identity, you've developed paper media and you've designed a delivery system, but have you considered the layout of your point of sale? It must reflect your business and include the various aspects of your visual identity.
It's another very important factor in converting and increasing your sales. How do you lay out your shop front, your display window, the customer journey, etc. to attract customers and ensure their loyalty? See the answers in our interactive guides!
Ecodesign
Design your shop in an ecologically responsible way
Do you want to design your shop to be eco-friendly and on trend, while also reducing your costs and environmental impact? See hub.brussels' practical guide!
Shop front
Rethink your shop front
The outside appearance of your shop contributes to its patronage. What are the key aspects to consider? Explore a multitude of illustrations and inspiring examples you can use in your own shop.
Display window
Make your display window shine
30 to 40% of your turnover depends on the appeal of your window... Do you want to make better use of it? See hub.brussels' advice on how to make its appeal unmissable to passers-by.
The customer journey
Master your customer journey
The interior design of you shop will have a direct impact on the purchases your customers make. How do you want them to move around the shop? See all of the recommendations.
Promote your products
Highlight your products
Creating layouts with impact, arranging your items in an appealing way and selecting the right displays are all ways to influence and trigger a purchase. Explore all of our strategies to succeed!
Energy
Save
Optimise your lighting, select the right air conditioning, heat your space for less… Explore all of the ways you can reduce your energy bill while increasing your sales!
Colours
Don't be afraid of colour
93% of consumers are first drawn by a product's visual appearance. Knowing the codes hidden in colours will help boost your sales. See all of the best practices to use them!
Communication
Define your identity
Your history, your know-how and your speciality are an integral part of the DNA of your shop. You should communicate them clearly to your customers. How? Follow the guide!
Article written by Laurine Kerpelt, hub.brussels
You have not yet given permission to place the required cookies. Accept the required cookies to view this content.